Learning, Sharing, Acting for the Ocean in Oslo
taraa
November 1, 2019
0 COMMENTS
Last week I had the pleasure of leading Ocean Conservancy's delegation to the 2019 Our Ocean Conference in Norway. We had a lot planned for the two-day event, and it felt like a whirlwind. I couldn't be more proud of the Ocean Conservancy team. The theme for this year's conference was "Learning, Sharing, Acting," and together, we hit it on the nose. Here are my favorite moments from the trip:
Hosting ministers and senior advisors from 12 government bodies (Belgium, Canada, Chile, the European Commission, Fiji, Indonesia, Monaco, New Zealand, Panama, Seychelles, Sweden and the United Nations) at a special breakfast event to discuss actions countries are taking to better integrate the ocean into climate policies. A healthy ocean is central to meeting the challenges of climate change, and Ocean Conservancy has been spearheading the push to create a formal home for the ocean under the United Nations Framework Convention on Climate Change.
Announcing the Arctic Corporate Shipping Pledge on the plenary stage on behalf of Nike and Ocean Conservancy. The Pledge invites consumer goods and shipping logistics companies to commit to not ship through new Arctic Ocean routes and to recognize that melting Arctic sea ice habitat is caused by global greenhouse gas emissions, including the 3% of global emissions from the shipping sector itself. Initial signatories include companies Bestseller, Columbia, Gap Inc., H&M Group, Kering, Li & Fung, PVH Corp. and ocean carriers CMA CGM, Evergreen, Hapag-Lloyd and Mediterranean Shipping Company.
Witnessing Norway sign on live during the conference to become the 15th member country of the Global Ghost Gear Initiative. By signing on, Norway demonstrated its commitment to tackling the issue of abandoned, lost and discarded fishing gear (also known as ghost gear). Through action on ghost gear, Norway and GGGI will improve the health of marine ecosystems, protect marine animals from harm, and safeguard human health and livelihoods through the implementation of best practice solutions to ghost gear.
Releasing Ocean Conservancy's new Plastics Policy Playbook: Strategies for a Plastic-Free Ocean at an official side event with our partners National Geographic and Circulate Capital. The playbook provides a systematic look at measures governments and the private sector can take to keep trash out of the ocean.
Launching the Joanna (Jo) Toole Internship to support women in ocean conservation in front of a crowd of 100 young leaders from around the world at the Our Ocean Youth Leadership Summit. The internship will give an aspiring ocean conservationist the opportunity to work with the GGGI, Ocean Conservancy and other partners on projects to protect the ocean from the effects of ghost gear. It is named in memory of one of the co-founders of the GGGI who was tragically killed in the March 2019 Ethiopian Airlines crash.
Meeting Norway's Crown Prince Hakkon, who joined the conference for an entire day and shared with us his love of the ocean and his vision for meeting the UN's 2030 Sustainable Development Goals. I was able to join the Crown Prince on a tour of the Keep Norway Beautiful and Ocean Conservancy ocean trash art exhibit, and learn more about Norway's efforts to tackle marine debris.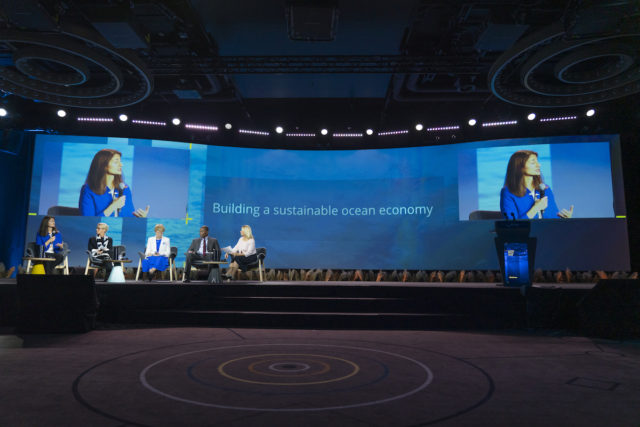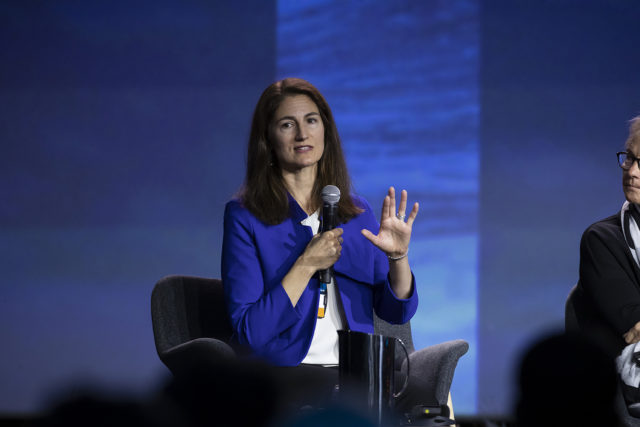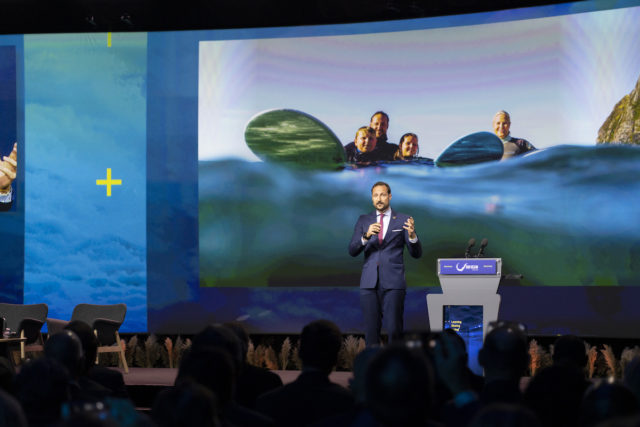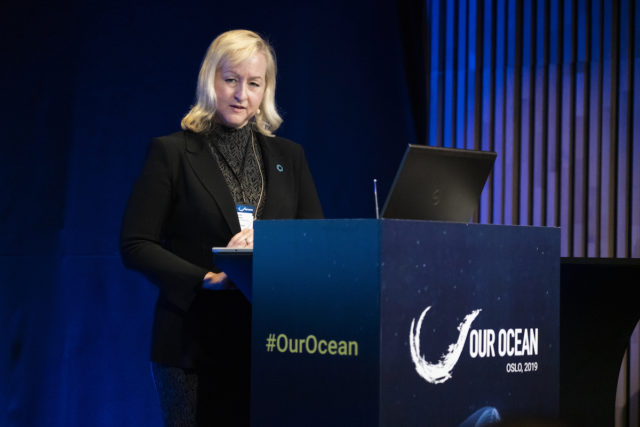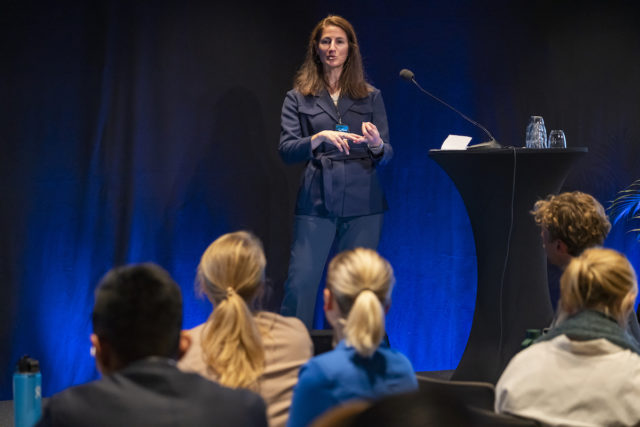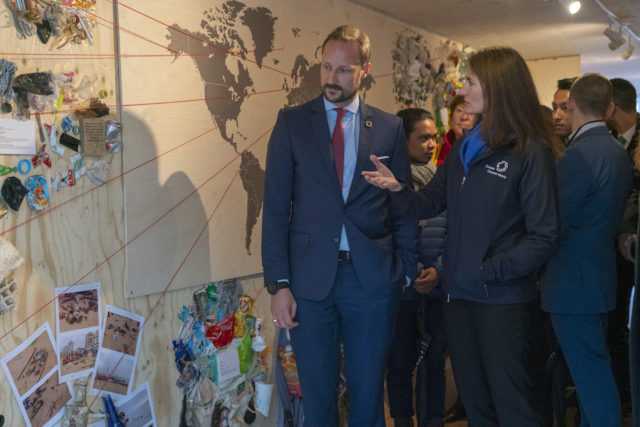 Individually, these moments represent small, important actions for our ocean. Collectively with the hundreds of other commitments made at the Our Ocean conference last week, we are seeing momentum build globally to protect our ocean. Thank you to my incredible Ocean Conservancy colleagues for making this event such a success, and thank you to Norway for their gracious hospitality. We look forward to seeing many of you at next year's conference in Palau!
Sign up for our emails!
Sorry, but we failed to add you to the list. Please try again or contact 1.888.780.6763
…loading
Thanks for signing up for Ocean Conservancy emails.
The post Learning, Sharing, Acting for the Ocean in Oslo appeared first on Ocean Conservancy.
taraa